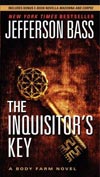 "He pointed, and for the first time I noticed a flat, rectangular panel propped against one end of the ossuary. It was the lid, made of the same pale, soft stone as the box. Miranda hoisted it from the floor and laid it at one end of the table. Two images were chiseled into the lid – images that sent chills up my middle-aged, incipiently arthritic spine. One was a lamb. The other was a cross."
The Inquisitor's Key by Jefferson Bass
Dr. Bill Brockton has barely escaped with his life an assignment at the Body Farm, a research facility in Tennessee, when he gets a call from someone on behalf of his assistant, Miranda, saying she's facing a medical emergency and he's needed in France immediately.
Dr. Brockton doesn't think twice and is quickly on a plane to Paris but upon arrival he finds out Miranda is just fine but he is needed urgently for another reason.  Miranda and Stefan Beauvoir, a French archeologist, have come across what could be the find of all times at the Palace of he Popes in Avignon.
Could the stone chest contain the bones of Jesus of Nazareth? Their research on the marks they find on the bones coincide with what we know of his death. As Dr. Brockton and Miranda work to uncover the truth they realize that there are those who stand to gain much from the truth but also those who want things to remain a mystery. The storyline switches every so often to take the reader the the 14th century where more clues are revealed.
The good, well I did like the that parts of this book had a historical setting.  The switching back and forth between past and present at least spark my interest in looking up the works of some artists. Also, at the last minute I was surprised by a plot twist. I didn't see that coming and it was a nice surprise.
On the whole the book did not work for me though. There was one whole plot line that seemed to be inserted for no other reason than just to have some action. I'm not sure if that was a carryover plot from a previous novel or to be followed up in the next book in the series. And, my biggest complaint was the romantic angle. Again, if I had read series from the beginning maybe it would have made more sense but this just felt tacked on and unbelievable.
Source: Personal copy