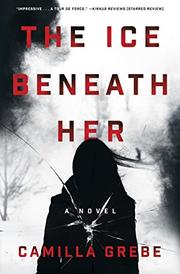 "The road stretches out black and shining as I drive into the city. The brake lights of other cars glisten in front of me on the road, lighting the way. Thick drifts of dirty brown snow and squat, depressing, conformist buildings like the road to Stockholm. The occasional illuminated Christmas star brightens up a window, like a torch in the night. It's started snowing again. A rainy slush settles on the windshield, blurring all the edges, softening the landscape. The only sound is the rhythmic swish of the wipers married to the soft purr of the motor. A murder. Yet another murder."
The Ice Beneath Her
By Camilla Grebe
Translated by Elizabeth Clark Wessel
Detective Peter Lindgren has just left the cemetery where he was visiting his mother's grave to answer the call of a homicide at an upscale neighborhood in Stockholm. The body of the unidentified woman has been beheaded and the only clue the police have is that the owner of the apartment is the well-known executive Jesper Orre, who is missing. To add another twist, the detectives encountered the same gruesome scene 10 years ago.
As Detective Lindgren and his partner Detective Manfred Olsson begin their investigation there is also another woman trying to piece together where Jesper Orre is. Emma is a sales associate at one of Orre's trendy clothing shops Clothes & More. She's been keeping a secret from the other sales associates and that is that she's engaged to Orre. Their secret affair quickly led to him proposing but Emma has lent Orre an incredible sum of money and now he's missing.
Before you get too comfortable reading these narratives Grebe introduces Hanne Lagerlind-Schön, a criminal profiler who Lindgren and Olsson have worked with before. Hanne has her own past with Peter that she must reconcile and something else she's trying to keep secret for a while longer but she is not one to pass up an opportunity to delve into a mystery.
How all three narratives come together was a surprise for me. I thought the author did a fabulous job of going back and forth between all characters to reveal their secrets and come to a shocking conclusion. I certainly will want to read more by this author.
Source: Advance review copy