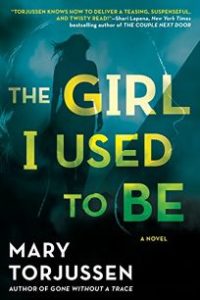 "I'd just been accepted by London University and would be there within a month. Whenever I hear that song now, it takes me straight back there, to that taxi ride to Alex's house. It's as though I am that girl, the girl I used to be. But I'm not."
The Girl I Used to Be
By Mary Torjussen
Published: April 24, 2018
Source: Advance review copy
Fifteen years ago Gemma was excited about the possibilities the world had to offer but the events of the graduation party changed her. She had a rough time putting her life back together but now runs her own real estate business, is married and has a little boy. All should be good but lots of little things are starting to take their toll.
Her business, while it makes her happy and she feels successful, really does take a lot of time away from her family. She often catches herself feeling resentful of the time her stay-at-home husband spends with their son, Rory. She's glad Rory is being taken care of by her husband but she thought the plan was for Joe to eventually find a job. Now he's even talking about moving to Dublin to be closer to his family but no plans of finding work.
When she's not worried about her home life, the success of her agency keeps her awake at night. Houses and apartment rentals aren't moving very fast and she has commitments to her employees as well. Life of a small business owner is definitely stressful but when she has a training conference to attend in London she's excited to think about a night at the hotel, getting some sleep and being away from it all.
At the bar before the conference Gemma runs into a client she was trying to find a house for. She decides to treat him to dinner but after drinks and stumbling back to her room, things are a bit fuzzy in her mind. All she knows is she can't wait to get back home to her husband and son and put everything behind her but that's going to be hard to do when she starts receiving incriminating messages and photos.
Gemma is going out of her mind and she just wants everything to stop. She wants things to go back to the way they were but first she has to get to the bottom of things.
This was a very suspenseful thriller. I loved how real Gemma's worries seemed about work and life. She was the everyday woman trying to keep up with children, bills, work, chores, and marriage. So you couldn't fault her for wanting one evening for a bit of fun unfortunately her decisions are going to have some serious consequences.
I haven't read this author before but now I want to go and check out some of her earlier books.