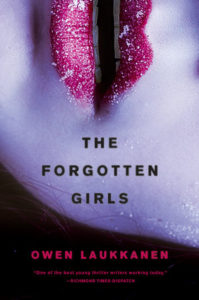 "You don't ever surf trains on the High Line. The wind howled like a creature. Screamed. Steel shrieked against steel. The night was a dark blur: pine trees by thousands, Douglas firs looming out of the darkness, the occasional red smear as a signal tower whizzed past. And, above, the night sky, the stars, so many and so bright."
The Forgotten Girls
By Owen Laukkanen
Agents Kirk Stevens and Carla Windermere are part of a joint force between the Minnesota Bureau of Criminal Activity and FBI investigating violent crimes. In this entry the two head out to the northern Rocky Mountains when the body of a woman is discovered. The girl is a train hopper on the high line and as they start narrowing details a lucky break leads them to believe she was killed in another state which opens the door to the possibility of more victims.
Why no one reported or missed these women is the sad realization that they were runaways or prostitutes but Stevens and Windermere plan to find justice and put a stop to the killer known as The Rider.
The investigators aren't the only ones looking for The Rider though. Ash, one of the runaways, did have a friend who had cautioned her and now this friend is also seeking justice for Ash.
Danger abounds with a killer on the loose and ice cold weather conditions threatening safety. Although I have not read any other books in this series I thought this one read well as a standalone. I enjoyed that the investigators worked well together and this had a good mix of suspense and setting details to make me want to continue with the series.
Source: Advance Review Copy