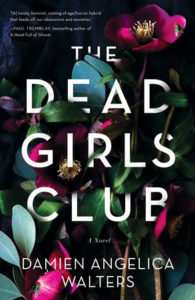 "There were only two people in the basement that night, but did we examine the rest of the house first? Could someone have been hiding; could they have seen the whole thing? What we – what I – did, what the Red Lady made me do? I shake my head. Not possible. We would've known. We would've heard."
The Dead Girls Club
By Damien Angelica Walters
Source: Advance review copy
A group of four girlfriends love share stories about serial killers and scary stories but the one story that makes the most impact is that of the Red Lady. She's the vengeful spirit of a witch killed centuries before. As the group gathers around each afternoon the belief that she is real starts to take hold of the girls, or most of them at least.
Heather Cole believed these were just stories, some a little too colorful, but then she is starting to lose her friendship with Becca when Becca won't admit that the Red Lady story is just a story. Heather doesn't want to fall under the spell but she feels there could be something haunting her friend.
That is the past and in the future the reader knows that Becca died. Was it because of this belief in the Red Lady? Now Heather feels like the past is coming back to her and she's fearful of the life she's been able to build around herself. She's determined to find out what is going on even if it means reaching back out to her friends and putting together the pieces of the past.
The story is told in alternating chapters of the past and present. I thought the beginning was wonderfully creepy with the descriptions of the Red Lady. Similarly the way the author writes about the group dynamics of young girls felt very plausible. Keep this one in mind if you love a good ghost story or psychological thriller.