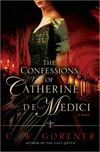 "I am not a sentimental woman. Even during my youth I wasn't given to melancholia or remorse. I rarely looked back, rarely paused to mark the passage of time. Some would say I do not know the meaning of regret. Indeed, if my enemies are to be believed, my unblinking eyes stare always forward, focused on the future, on the next war to fight, the next son to exalt, the next enemy to vanquish."
The Confessions of Catherine de Medici by C.W. Gortner
In this imaginative tale, France's famous queen Catherine de Medici, is portrayed as a woman who although many saw as a ruthless leader, only did what she had to do to save her country and her family. At the young age of 14, Catherine is aware of her duty and accepts her fate to leave Italy and go to France to marry Henry II.
Even if she still secretly entertained dreams of a love match with her husband those were quickly put to rest when she realized that Henry's affections and his will were claimed by Diane de Poitiers, his mistress. Just as battles are brewing around the country with the rise of protestants, Catherine's own battles in the court force her to make a pact with Diane so that she'll be able to produce an heir.
Much to Catherine's chagrin, it is Diane who assumes a lot of the care of her children. Catherine goes on to have several children. But it is when Henry II dies that suddenly Catherine's battles take on a larger scope. Her one son who is next in line to the throne is only 10 years old and the religious rebellion is escalating more each day. No one trusts the queen and after several deceptions by those she thought she could confide in, she trusts no one either.
Catherine consults with Nostradamus in hopes of finding the answers as to what to do with her children and how to prepare them to rule. She herself had visions at an early age but found them confusing and didn't understand how to interpret them but despite her assertion that what she wanted most for France was peace, she ruled at a time when there was a lot of strife in the country and it seems that even despite her best intentions countless lives were still lost.
While Catherine is the main figure in this novel, many other characters were also fascinating to read about. Henry's mistress was an indomitable adversary, Catherine's daughter Margot was bold and even Jeanne de Navarre who some believe was poisoned by Catherine, was resolute in her religious beliefs. All of these characters help to give us a picture of the many people Catherine had to deal with and somehow wield to her side, sometimes not very successfully.
As I turned the last page and closed the book, I quickly went to my computer to do a bit of internet searching to find out more about Catherine. I think that right there shows how well this novel worked. A well-told historical fiction tale will wrap you up and take you to another time but once done you crave more information. You want to know more details, more about the other characters and so on. I thoroughly enjoyed this book, and I am eager to see which Queen author Gortner will focus on next. At least I'm hoping it will be another Queen. I know I have a couple in mind I would love to read about.
I read this book as part of a Virtual Book Tour. You can see more participants here.
Source: Advance Reader's Copy