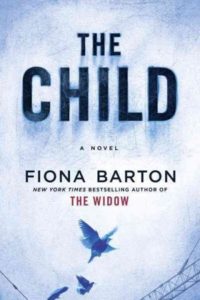 "Standing in front of the microwave, watching the pizza revolve and bubble, I wonder for the millionth time if he'll leave me. He should have done years ago. I would have if I'd been in his place, having to deal with my stuff, my worries, on a daily basis. But he shows no sign of packing his bags. Instead he hovers over me like an anxious parent, protecting me from harm."
The Child
By Fiona Barton
Published: June 2017
Source: Advance review copy
Kate Waters is journalist looking for the next big scoop when she reads about a recent construction site in London. While the workers were doing the renovations they find the skeletal remains of a baby. Immediately Kate wants to know more and thinks that this could be a big story.
With the help, or hindrance, of a new intern Kate meets with several of the construction workers and starts to piece together what could have happened to the baby.  There are several other women who've read this story and who think they may know who the truth.
As Kate investigates the past of the building and tries to connect with the people that may have lived in the area or have children missing she encounters Angela. She is a homemaker who has lived with the guilt of having left her baby in her cot at the hospital while she took a shower. In that small instance while she left her alone her baby went missing.
There are alternating narratives which lead you down the path of different conclusions. I did not see how everything was going to come together until well into the story so I really liked being kept in suspense. I thought Kate was a believable character and liked how she came to rely on her intern and together they worked together to find the truth. A very enjoyable read.