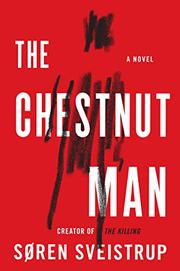 "Its tone is soft and affectionate and much too close to her ear. But the voice doesn't wait for an answer. For a moment it removes the thing that was stuck over her mouth, and Laura hears herself begging and pleading. She doesn't understand anything. She'll do anything. Why her – what has she done?"
The Chestnut Man
By Søren Sveistrup
Translated by Caroline Waight
Source: Advance review copy
There's a serial killer terrorizing Copenhagen. He doesn't just kill his victims but first puts them through hell through his torture. His signature are the chestnut dolls he leaves behind as his calling card and the case detectives will leave no stone unturned to find this psychopath.
Naia Thulin from the Major Crimes division is paired up with Mark Hess who has just arrived, or been exiled, from Interpol. She's not excited to work with him and frankly, he seems a bit of a mess. For his part, Mark will do whatever it takes to get out of Copenhagen. Both of the main protagonists like all good fiction detectives are carrying a lot of baggage but their characters still feel interesting and you want to get to know them.
The stakes are high for both detectives as the fingerprint that was identified links the crime to the Minister of Social Affairs, Rosa Hartung. It's her daughter's fingerprint they have found and that raises the question about her disappearance many years ago. Everyone assumed her dead but now there is hope for Rosa but everyone has to work quickly as possible to catch the Chestnut Man.
One of my favorite characters in the book was Naia's daughter Le who is smart and sweet. There are definitely some gruesome details of the killings so it was nice to have a character removed from all of that. The book is a bit on the longer side but it's a thriller and it's a good one. I enjoyed it so much and am really hoping there will be a sequel.