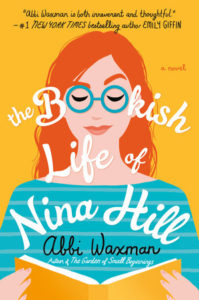 "Larchmont Boulevard is the linear heart of Larchmont Village, populated by cafes, restaurants, boutiques, artisanal stores of many kinds, and one of the few remaining independent bookstores in Los Angeles. That's where Nina Lee Hill works; spinster of this parish and heroine of both her own life and the book you're holding in your lovely hand."
The Bookish Life of Nina Hill
By Abbi Waxman
Source: Advance review copy
Nina has her days all planned out between her work at the bookstore, her book group meetings and her trivia nights. She doesn't do well in social situations, plus they tend to cause her a lot of anxiety and she'd rather stick to what she knows.
However, her life is about to get a bit more complicated with when she hears from a lawyer that her father has died and has left her in his will. She's about to meet a lot of family some who are welcoming and others who view her with distrust. She really just wants to go back to the way things are and not have to deal with having to meet a bunch of new people.
Plus, the sporty and handsome guy in her trivia group seems to be trying to impress her. Nina thinks that if he's that good at sports trivia it's doubtful he's a reader but he is definitely handsome.
As a bookworm myself I really liked a protagonist who loves books, belongs to book groups and schedules time to read. I thought there were some really cute moments as Nina is trying to brave her new social circle and some others that made me feel for her, like when her anxiety is so crippling that all she can do is hug herself and be alone. Overall this made for a quick enjoyable read.