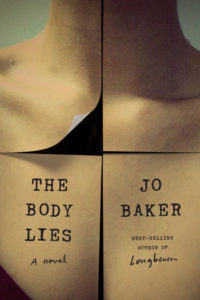 "It was on the busy, dirty Anerley Road in South London that the man hit me."
The Body Lies
By Jo Baker
Source: Advance review copy
The unnamed narrator is an author and writing professor on a walk the evening she's assaulted. After time passes and an opportunity to leave London behind she decides to leave the city and take her three-year-old son with her to teach creative writing at a university in a small remote town.
Her husband stays behind and they decide that they'll see each other on weekends for the foreseeable future. All she wants to do is get away from the hubbub of the city and continue to mend after the trauma. She may have expected a calmer life but she faces some challenges with the university and soon enough with one of her students.
The writing that Nicolas turns in is frightening her and his actions are starting to cross a line. Is she always going to be fearful or is she blowing things out of proportion due to what she experienced?
I think one of the issues some reviewers have had with this book is that the book was heavily marketed as psychological suspense. Is it a thriller? While I feel like there is a strong sense of foreboding it wasn't quite a thriller for me. I wasn't on pins and needles to find out what happened next but I found the way the author focused more on the aftermath was all the more compelling. I think if you are a fan of thrillers but maybe would like to read something with a fresh take on the genre this could be the book for you.