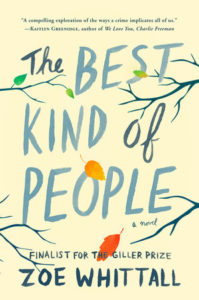 "For months Joan would replay this moment, trying to decipher the look on her husband's face. Was it guilt? Confusion? Indignation? Stoicism? Acting? But nothing, not even a revolving camera of omniscience, a floating commentary opportunity to narrate, would allow anyone to truly understand the truth about George."
The Best Kind of People
By Zoe Whittall
Published: September 19, 2017
Source: Advance review copy
For the Woodbury family life is full and fulfilling. Joan and George have been married for many years and have successfully raised their two children. One is already in a successful career in NYC and their youngest Sadie, is a popular high school student. Everything is going according to plan until one evening two officers appear at their doorstep and arrest George.
The popular high school science teacher even had become somewhat of a mythic hero as he had saved his daughter and other customers in a bank hold-up years ago but not even that can save him from the stares and withdrawal from friends when it is announced that he's been accused of sexual misconduct with students.
The family is in shock understandably and the story proceeds as George is awaiting trial. While Sadie tries to go back to school and resume her daily life, Joan is determined to find a reason as to why George could have done what he is accused of. Is he ill, how will they move on? Meanwhile Andrew returns home to help his parents but also finds it difficult to assimilate what has happened.
There are those in the community that are quick to assume the worst and if there are any who support George, then others think they are against the victims. The strength in this novel is having alternating viewpoints from Joan, Andrew and Sadie. While the biggest downfall for me was not enough from George, the accused.
This novel was a finalist for the Scotiabank Giller Prize and as I read it during so many of the sexual misconduct scandals that dominated the discussion at the end of 2017, it definitely felt like a very timely and important read. While it was not one of my favorite reads of 2017, it was a good read and I think this is an author to watch.