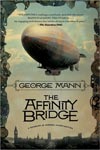 "The room was full of ghosts. Or so Felicity Johnson would have had him believe. Sir Maurice Newbury, weary from a day spent scouring the dusty stacks of the British Library, drummed his fingers on the table with a quiet impatience. The dinner party was not working out at all as he'd anticipated."
The Affinity Bridge
by George Mann
Lucky for Sir Maurice life is about to get very interesting for him as he becomes embroiled in an investigation to uncover the murder of a policeman. He and his capable assistant, Miss Veronica Hobbes, listen to tales of revenants, or zombies, walking the foggy streets of Victorian London. The people are upset and fear going out but before Sir Maurice and Veronica can make much progress they are summoned by Queen Victoria to investigate an airship crash.
London in 1901 is bursting with new inventions, some dangerous and others fascinating. The atmosphere simmers with excitement as the reader turns the page to see what new invention Sir Maurice will have to contend with as part of his investigation. How can he explain to Queen Victoria that her cousin's death in the airship crash was human error when everyone knows the automatons that pilot the airships are infallible?
Sir Maurice and Miss Veronica although not having worked together for long quickly fall insync when it comes to the investigation. They rely on one another and although Miss Veronica may have more to learn about mystery solving she's no simpering miss and just as bravely joins in on the action.
It's a bit hard to review this book because there is just so much going on and I would hate to spoil the fun. As I neared the end I wasn't sure how all the pieces were going to be pulled together and while I still think there were some loose ends, I think it's easy to see that it's probably because those will be used to build upon in the next installment, or at least I hope so.
This is my first Steampunk read but it surely won't be my last. I just went along for the ride and had a great time. In case you don't know, Steampunk is a subgenre of the Science Fiction usually set in the Victorian era and features futuristic technology. If you've not read anything in this genre, I do recommend this book. The characters were likable and the action was non-stop and I think it's a great introduction into the genre.
Source: Advance Review Copy