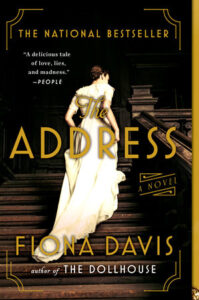 "After several years toiling as a maid and working her way up the ranks, she'd been awarded the position of head housekeeper at London's Langham Hotel a month prior. One of he largest tasks was keeping the maids in line, all young girls with hardly a shred of common sense among them."
The Address
By Fiona Davis
Source: Advance review copy
Sara Smythe knows she has to be on top of every detail at the Langham Hotel if she wants to continue working there but her paths will cross with the Theodore Camden, the American Architect visiting London, when she rushes to help his family to avoid a tragedy. He takes notice of her and makes her an offer that will take her across to America and a new beginning.
Theo has a vision for The Dakota Hotel, where tenants will come and have everything they need within their grasp and he believes Sara will be the perfect "Managerette" for his hotel. The two work tirelessly to ensure that every piece of glassware and all furnishings are ready for the grand opening. This closeness they share will lead them to rely on each other more and see each other as more than employer and employee.
The book is a dual narrative with chapters alternating between Sara's story in 1884 and Bailey Camden's story in 1985. Bailey, A former party girl, finds herself without much of anything after finishing a stint at rehab and has to accept her wealthy cousin's offer to remodel The Dakota. Bailey may be the poor relation and as such doesn't have much of a say into the renovations her cousin wants to make to The Dakota but she doesn't agree with them.
When she starts clearing out old remnants left behind she finds a trunk which will lead her to start looking into her family history a bit more and find out who exactly Sarah and Theo were.
I read this one a while back and although I didn't think the whole connection plot line of Bailey's family heritage was too surprising what I have found is that I still remember a lot about Sara's story. Probably not so strange as I do enjoy historical settings. I thought this was very readable and certainly would love to revisit New York one day and pass by and see this iconic hotel.