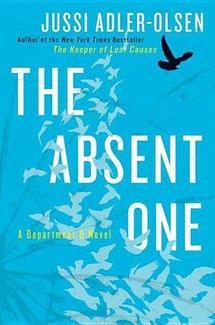 "When she ventured down the pedestrian street called Strøget, she was poised as if on the edge of a knife. With her face half covered by a dirty green shawl, she slipped past well-lit shop windows, alert eyes scanning the street. It was vital to know how to recognize people without being recognized. To be able to live in peace with her demons and leave the rest to those who hurried past her. Leave the rest to the fucking bastards who wanted to harm her, to those whose blank stares shunned her."
The Absent One
By Jussi Adler-Olsen
Detective Carl Mørck, who first appeared in The Keeper of Lost Causes, is head of Department Q, Copenhagen's Police department specifically set up to solve cold cases. The department is really just Detective Mørck and his assistant Assad, whose methods and background are a bit questionable.
This time they are re-opening the case of a brother and sister brutally murder. There was always suspicion that students from their academy were involved but they couldn't prove the case. Only one person is serving time but the more Detective Mørck and his team look into the case they realize that they need to go back to the original suspects and see what they've been up to.
These former students are now important businessmen, with wealth and power on their side but one woman, Kimmie, knows exactly what they've done. She is a witness not just to the murdered brother and sister but to other victims and she is also looking to exact revenge for herself.
While I think the first book held my interest more, I still found this a compelling mystery. I enjoy the banter between Detective Mørck and Assad, although I really want to know Assad's background. I don't want him just to become the silly sidekick. And, now the team also has a new addition, Rose, who isn't the incompetent assistant Mørck was expecting. So I have high hopes that Department Q will be made up of an interesting cast of characters as the series goes on.
The violence is gruesome at times but the suspense is top-notch, especially towards the end of the book. I look forward to the next installment in this series.
Source: Personal copy