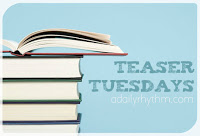 I'm finally joining in on Teaser Tuesday hosted by MizB of A Daily Rhythm. I've been meaning to but you know how that goes. Anyway, here are the rules: grab your current read, open to a random page, and share two (2 or 3) "teaser" sentences from that page while avoiding any spoilers.
This is going to be a teaser for you and me because I haven't started this book yet but will be doing so in a day or two.
"As she departed to the kitchen, I watched the sinuous play of her hips within her loose green gown. When I bought her long ago at the slave market in Alexandria, it had not been for her cooking. Her cooking had never improved, but in many other ways she was beyond perfection."
Next teaser from the same book (I did jump to a different page):
"I never knew their names. He stared into the fire. But I remember the Etruscan's face when my sword cut open his entrails and he looked up at me, gasping and unbelieving."
From The House of the Vestals by Steven Saylor.
I see lots of action and perhaps some romance in my upcoming read. I've not read any books by Steven Saylor so I'm looking forward to getting to know the characters. This is book six in his Roma Sub Rosa series and it's the book chosen by my mystery book group for our discussion next week.
How about you have you read any of his books? Would you be intrigued by the teasers?