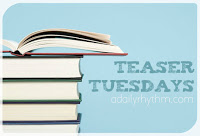 I'm back for another Teaser Tuesday hosted by MizB of A Daily Rhythm. The rules: grab your current read, open to a random page, and share two (2 or 3) "teaser" sentences from that page while avoiding any spoilers.
My teasers are from a couple of different pages but I think a lot of you will guess where these teasers are from:
"The old gentleman died; his will was read, and like almost every other will gave as much disappointment as pleasure. He was neither so unjust, nor so ungrateful, as to leave his estate from his nephew; but he left it to him on such terms as destroyed half the value of the bequest." Pg. 2
"In this state of her spirits, a letter was delivered to her from the post, which contained a proposal particularly well timed. It was the offer of a small house, on very easy terms, belonging to a relation of her own, a gentleman of consequence and property in Devonshire. The letter was from this gentleman himself, and written in the true spirit of friendly accommodation." Pg. 19
Did you guess where these teasers are from?
They are from Sense and Sensibility by Jane Austen. My mom and I watched the movie last weekend and I decided that it was time to actually read the book. Have you read this and how does it rank compared to other Austen books you've read?