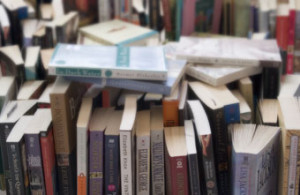 Hey Friends – It's been a whirlwind of activity around here these past couple of weeks but I wanted to say thank you for all the bloggiversary comments below. You guys are the best!
We're now getting ready for vacation and that means a lot of coordination as family comes over to stay with my mom while my husband and I do a bit of traveling. After not having vacation last year and just a lot of work, I'm really in need for time away to see new places. I am looking forward to lots of walking, uninterrupted hours for reading and savoring adventures.
While I'd love to take a book, I'm trying to pack light so I'm only relying on my Kindle. Maybe I'll squeeze in a magazine too. Of course my journal is packed already.
I won't be blogging while away and won't be able to stay up to date with my blog feed but I look forward to catching up with you when I'm back. Until then, happy reading and more book talk soon!