Want to see my new bookshelves? Here is a peek at my Ikea Billy bookshelves which take up one full wall of my studio/library. I've got four regular size ones and a thinner one I placed in the middle.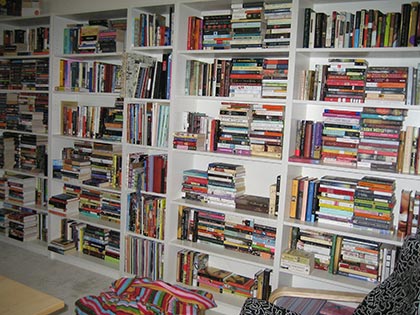 On the far left my mysteries take up all the shelf space. The next one has classics, poetry and then the fiction starts about half way. The middle section has my crafty books and magazines and the one-of-a-kind journals I've made. The next two bookshelves have more fiction books. At the bottom of the last bookshelves I've literary magazines and a keepsake box which holds my bookmark collection.
You can also catch a small glimpse of my reading chair. Actually, that's my husband's reading chair but his studio is quite packed with tables and bookshelves so I told him I'd be more than happy to have his chair in my studio/library. It is so comfy I don't know if I'll give it back. Ha.
A lot of my books are still in boxes. Most of my keepers, my Spanish books, some reference books and a few others. I plan to put those in another area of our house but we still don't have bookshelves for those so unfortunately they'll have to stay in the boxes for a while longer.
But, what I'm thrilled about is that as you can see I have quite a bit of open spaces on the shelves. You know what this means – book buying to the max. Ha,ha…
Anyway, hope you are all having a great weekend. I'll be busy reading and working on my favorites of 2009 list so I'll be back with that soon.