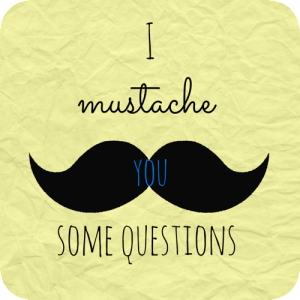 I saw this fun meme over at Literary Feline's blog and it's been so long since I've done one of these that I couldn't resist.
Here are my answers to the "I Mustache You a Question" meme.
Four names people call me other than my real name (could only come up with three):
1. Bookgirl
2. ili
3. Chica
Four Jobs I've Had:
1. Executive Assistant
2. Marketing Coordinator
3. Public Relations Account Coordinator
4. Human Resources Generalist (current and most experience)
Four Movies I Have Watched More Than Once:
1. Bridget Jones's Diary
2. Little Miss Sunshine
3. Love Actually
4. Garden State
 Four Books I'd Recommend (I looked on my "keeper" shelf for this one):
1. My Cousin Rachel by Daphne Du Maurier
2. Remarkable Creatures by Tracy Chevalier
3. The Post Office Girl by Stefan Zweig
4. The Little Stranger by Sarah Waters
Four Places I've Been (Other than Germany & Mexico):
1. Iceland
2. Belgium
3. Denmark
4. Austria
Four Places I'd Rather Be:
1. At a crafty retreat
2. Hanging out at a bookstore
3. On the beach in Isla de Mujeres, Mexico
4. At a spa in the Harz, Germany
Four Things I Don't Eat:
1. Grapefruit
2. Hot Dogs
3. Kale
4. Steak
Four of my Favorite Foods (I love carbs!):
1. Breakfast tacos
2. Spinach and cheese omelette
3. Rice
4. Baked goods
Four TV Shows That I Watch:
1. Bosch
2. Grimm
3. Gotham
4. La Sombra del Pasado (telenovela I watch with my mom)
Four Things I'm Looking Forward to This Year (2015):
1. Going on vacation
2. Planting more succulents in our garden
3. Trying our Vitamix (we just got it today!)
4. Coloring my hair (maybe). Too many grays now and I may finally take the plunge.
Four Things I'm Always Saying:
1. "What are you thinking about?"
2. "I heard on NPR"
3. "I'm overwhelmed"
4. "Another book for my TBR list"
Four People I Tag: I'm not tagging anyone but I hope you'll do this.
I don't know what you guys are up to this weekend but I have gotten the dreaded "Holds Available" email from the library which means I have four books to pick up. Yikes. I hope you have a wonderful weekend. I plan to do a bit of reading!