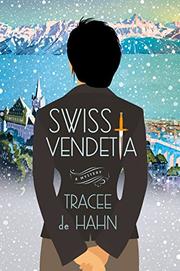 "Felicity Cowell fled, her bare feet slapping the cold stone of the corridor. She tried to soften the sound, but her heart said run and she followed her heart until the corridor turned, ending abruptly at a steep flight of stairs. She stopped short, teetering on the top step. This path led to a ground-level door and the lawn. Another miscalculation. She needed a different escape."
Swiss Vendetta
By Tracee de Hahn
Source: Advance review copy
Inspector Agnes Lüthi is trying to put the tragic past behind her and move on for the sake of her children and her career. She decides to take a position with the violent crimes division and her first case will make find her treading lightly as she deals with the powerful and aristocratic Vallotton family while at the same time dealing with the storm of the century which is crippling the surroundings.
Agnes goes to Château Vallotton to investigate the death of a young woman who was there to evaluate some of the family heirlooms on behalf of an auction house. When Agnes arrives she finds several things that immediately tell her this young woman was murdered but who could have possibly done this to her and why?
The snow is not letting up and the family members all seem to have secrets that Agnes must delicately reveal. She is herself is cut off from the police force as all communication is lost and the roads are impassable. She longs to speak with her children fearing that they need her more than ever being the only parent they have now after the suicide of her husband.
The story gets more complicated when a young ward to one of the residents of the Château Vallotton goes missing. As Frances looks for the young child she also begins to find more clues into the death of of the young woman.
If you like locked-room mysteries this is one for you. I loved the atmosphere of surrounded by all that snow and with all those rooms and doors to look through for clues. I thought Agnes was an strong character and would like to see her find more comfort as she tries to get past her husband's death. All in all, a mystery series I'd like to continue to follow.