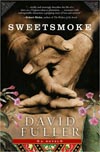 Thanks to Random.org the winner of the first-edition, signed copy of Sweetsmoke is Ta from Iron Inklings. Congrats Ta!
Thank you to everyone who participated in the giveaway.
And, guess what as I've been organizing the shelves and stuff I ran across another book I'm going to giveaway – this time the story involves vampires. I'll post on that soon so stay tuned.