Hope everyone had a great weekend. I've been so busy with family visits and stuff that I've hardly opened up my books this weekend (gasp!) but today after I try to bring some order to our home, go grocery shopping and all of that, I plan to settle down with some good books. I've finished some, started others and have some new books to tell you about but I'll save that for another day.
In the meantime, how about I tell you about the giveaway I have going on this week: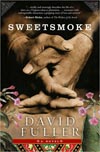 Author David Fuller's novel, Sweetsmoke, has been receiving lots of attention since it was published this summer — it's been chosen as one of the Barnes and Noble "Discover Great New Writers" pick and is also a Borders "Original Voices" pick. Here's a bit from the author's web site:
The year is 1862, and the Civil War is in full flame. Cassius Howard, a slave and carpenter on a tobacco plantation, risks everything – extreme punishment, sale to a cotton plantation, even his life – to learn the truth concerning the murder of a freed black woman, a woman who secretly taught him to read and once saved his life. No one gives a damn about her small, rude, unimportant death in the midst of a brutal and hellish war. No one but Cassius, who braves unimaginable dangers to escape the plantation and avenge her death.
Sweetsmoke is Cassius's journey into knowledge, knowledge that tests him and very nearly destroys him, ultimately guiding him toward freedom.
Doesn't that sound good? You can read more about the book (even the first chapter) by visiting the author's web site. I haven't had the chance to read it yet but I'm excited the author is offering a first-edition, signed copy of his book to one of my readers. If you are interested in the book, just leave me a comment. I'll announce a winner on Saturday.
* Giveaway is open to U.S. addresses only. Sorry to my international readers.