I hope you all had a great weekend. I was all set to catch up on blog reading this morning but I just felt sluggish all day today. To top it off, I had to run some errands to finalize some Christmas shopping but I manage to finish off the afternoon by indulging in some yummy coffee and my latest book so my good mood was restored after all that running around. Ha.
We did go to the bookstore on Friday and I added a bunch of other books to my list. I'll share those with you tomorrow but for now I just want to show you the latest addition to my studio.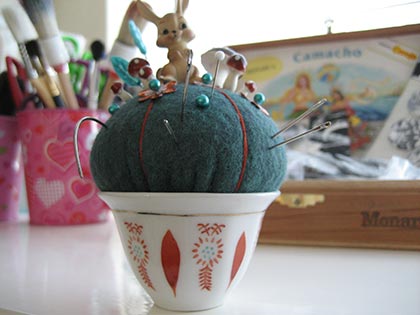 Isn't this pincushion the cutest? I got it from Stitch Lab which had a booth at the craft fair I went to on Saturday. I would love to take a sewing class at Stitch Lab one day. I may not need pins but I do use a lot of needles with my bookbinding. Sometimes I need curved needles, other times needles with a bigger eye depending on which thread I'm using and so on. Now I have a place for my needles and it just makes me smile when I see this little guy.
This actually reminds me that one day I'll give you a photo studio tour of my home studio but that'll have to wait for when it's a bit more organized. Which means, it could be a while.
Have a great start of the week and a bookish post coming tomorrow.