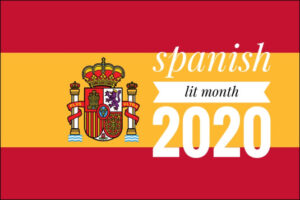 Do you have your reading passport ready? Good because July is also Spanish Literature Month a reading event hosted by Stu and Richard. Just like I mentioned in my previous post about Paris in July, I've only participated in this reading event probably once before as we're usually traveling during this time but now that we are staying home why not do some armchair traveling. This event starts in July and actually ends in August so there's a bit more time to get some reading done.
When I looked on my bookshelves for some Spanish authors I found quite a few but I wish I had some of them in the original Spanish. I'm bilingual so I would like to do a bit more reading in Spanish but the books I do have in Spanish are from authors from Mexico or other Latin American countries which I will save for Hispanic Heritage Month later in the year.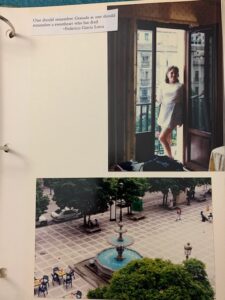 I can't remember if I've told you before but Spain was my first trip to Europe and I loved it. I traveled through Barcelona, Madrid, Cordoba, Seville and Granada. I thought you'd get a kick out of seeing a page from my scrapbook. Here I am standing outside the balcony of our hotel in Granada and the picture below is the little plaza the hotel overlooked. I know that one day I would love to go back but for now it's through books.
Okay back to the books. Here are some books I have to choose from:
I have several books by Arturo Pérez-Reverte: The Club Dumas, The Seville Communion, The Fencing Master and Queen of the South. I know I really enjoyed his novel The Flanders Panel so I really should read another of his books.
The Vineyard by Maria Dueñas. A novel about ambition, heartbreak, and desire set in Mexico, Cuba, and Spain in the 1860s.
The Angel's Game by Carlos Ruiz Zafón. I loved his book The Shadow of the Wind and I think this sounds like it could be a great book too.
The Carpenter's Pencil by Manuel Rivas. Set in the dark days of the Spanish Civil War, The Carpenter's Pencil charts the linked destinies of a remarkable cast of unique characters.
Fuimos Canciones by Elísabet Benavente. Oh I found one in Spanish. This one sounds a bit more like a chic-lit book but I've heard good things about this one so I think it would be great fun.
If you don't know where to start with Spanish Lit, here is an article on the Best Contemporary Spanish authors. I hope you'll get a chance to join in on the fun. Again, not sure if I'll get a chance to read more than one book but regardless I'm excited to imagine myself once again walking along the Rambla or visiting El Prado. And, thank you again to the hosts of this event!