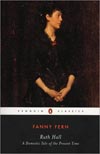 I finally finished Ruth Hall by Fanny Fern, a reading group choice for the Slaves of Golconda. Despite the short chapters I found it took me a while to get through the book. Normally I'm very drawn to stories about women but this one seemed to me so bogged down on the tragedy that it'd set it aside for a while.
There is one thing I really liked though and that was the language. Here's Ruth thinking about how she must act towards her in-laws.
Still, Ruth kept her wise little mouth shut; moving, amid these discordant elements, as if she were deaf, dumb, and blind. Oh, love! that thy silken reins could so curb the spirit and bridle the tongue, that thy uplifted finger of warning could calm that bounding pulse, still that throbbing heart, and send those rebellious tears, unnoticed, back to their source. Ah! could we lay bare the secret history of many a wife's heart, what martyrs would be found, over whose uncomplaining lips the grave sets its unbroken seal of silence.
You can read more of my thoughts here and of course join in on the discussion at the MetauxCafe forums.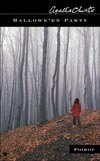 The other book I finished recently is one of my R.I.P. III Challenge choices, Hallowe'en Party by Agatha Christie.
'Tis the season to think of Halloween parties and so this book seemed like the perfect choice. The atmosphere, the quaint town, it's all wonderful. What I didn't expect was the undercurrent of malice. I guess I didn't expect a child to be murdered in an Agatha Christie book. Goes to show you that I still have a lot more Christie reading to do.
I loved the mystery writer, Ariadne Oliver who is on hand to help Poirot. I understand she is also in several other Poirot novels so I'm looking forward to finding more of those were she's involved. Does anyone know and can give me a clue? This wasn't my favorite Agatha Christie book but I'm glad I read it. You can read more of my thoughts on it here.
For tonight's reading I'm going back to Beautiful Lies by Lisa Unger. I'm finally getting in the middle of things in this book and am so curious to know what is going on. I can't figure it out!