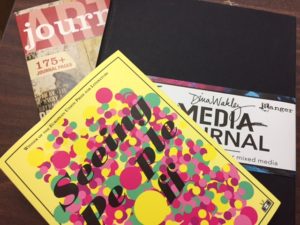 I hope you all had a wonderful weekend. I got to see one of my cousins this weekend so it was nice to spend some time with her. Other than that it's been a bit quiet for us. I've been focusing on one book this weekend even though I have several going on but that's because Tuesday I'm meeting up with my book group and I want to make sure I finish the book on time. We are discussing Jane Steele by Lindsay Faye.
Have you read Jane Steele? In case you haven't heard of the book it's an homage to Jane Eyre and it is an Edgar Award nominee for best novel. I'll tell you more about it after I finish but so far it's been a great read.
Now for the new items I wanted to talk about. I added a new book to my shelves. Seeing People Off by Jana Benova is the story of a young couple living in a humongous apartment complex outside Bratislava where the walls play music and talk, and time is immaterial. I think this will be an interesting read.
My other "book" is really a journal. I recently found out that Dina Wakely released a new mixed media journal. This book is a nice hefty size and best of all it has 54 pages but there are four different types of papers. There is canvas, burlap, watercolor and kraft paper. I think it will be a lot of fun to try out techniques in this journal and see how differently certain mediums react to the different papers.
The other new arrival this weekend was my latest edition of Art Journaling magazine. I'm actually behind on catching up with these and still have my previous edition waiting. I'm keeping my fingers crossed because one of my friends and I are hoping to get in to An Art Journal Affair. We're on the waiting list now but it would be so cool if we got spots.
So that's the latest here. What about you, did you get any new books or magazines this weekend?