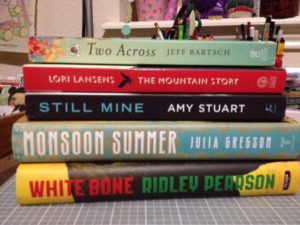 Another day, another heat advisory. Today we reached 102 again. All I want to do is eat popsicles and stay indoors! So I don't have much planned for this weekend except for staying cool.
I have received some new ARCs so maybe I should spend some time with these instead, what do you think? Here are the books I got:
Two Across by Jeff Bartsch. Highly awkward teenager Stanley Owens meets his match in beautiful, brainy Vera Baxter when they tie for first place in the annual National Spelling Bee-and the two form a bond that will change both of their lives. This sounds like a sweet love story.
The Mountain Story by Lori Lansens. Nola has decided to hike up a mountain to commemorate her wedding anniversary, the first since her beloved husband passed. I read her book, The Girls, and loved it so I hope this will be a winner.
Still Mine by Amy Stuart. What happens if you vanish from your life and leave no story behind? Someone will make one up for you. Doesn't this sound interesting? Is it me or have there been so many thrillers this summer that just sound so good?
Monsoon Summer by Julia Gregson. An epic love story moving from England to India, about the forbidden love between a young Indian doctor and an English midwife. Lovely cover and historical drama.
White Bone by Ridley Pearson.When ex–military contractor John Knox receives a text from partner Grace Chu warning that she fears her cover may have been blown while on assignment, he jumps into action. This sounds very different from most mysteries I read so I'm interested.
Have a wonderful weekend friends and stay cool!