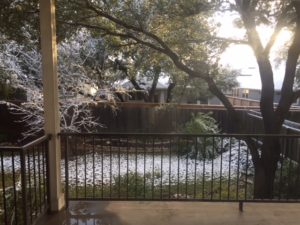 I hope you all had a great weekend. Our started off with a snowy morning on Friday. I know, a lot of you guys are probably saying, that's snow? For us in Austin, TX, snow is kind of rare so just this bit caused quite a bit of fuss on the roadways early in the morning. Luckily it was pretty much all gone by mid-morning and I actually can't complain as I didn't have to be out in it anyway.
It was funny though when I left home for an appointment in the afternoon I saw a house that had a snowman on the front lawn and I think it had more grass than snow but it was cute.
The rest of the weekend was a bit of a blur between some bookbinding and adding a few goodies to my Etsy shop. And, this Sunday I got to see one of my cousins who was passing through town. It's always so fun to catch up with my younger cousins and see what is going on in their lives and to hear about their dreams for the future.
Regarding my reading I'm still concentrating on the books I mentioned in my previous post but I do have to add a new book to the mix soon as my book group meets next week and we have the author in our midst!
So that's the scoop for what's been going on around here. I'm still a bit behind on my blog reading but I noticed that some of you are talking about reading challenges for next year. Oh boy, you know I can't resist those! Let me know how your weekend was and if you are planning on taking on any reading challenges next year.