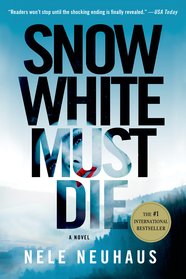 "Often, very often over the past ten years, he had imagined the day of his release. Now it occurred to him that he'd only thought as far as the moment he would walk out the door into freedom, which all of a sudden seemed threatening. He had no plans for his life. Not anymore."
Snow White Must Die
By Nele Neuhaus
Tobias Sartorious is finally going home to Altenhain but he won't be getting a warm welcome. If anything the locals will make sure that Tobias knows they really don't want him there and that they haven't forgotten that he killed Snow White.
Ten years ago Tobias was accused of killing two young women. It was all circumstantial evidence and Tobias couldn't recall the events of the fateful night. The two girls were his girlfriend Stephanie, the beautiful and popular girl who just won the lead role of Snow White in the school play, and Laura, Tobias's childhood sweetheart. Although the bodies of the girls haven't been found, everyone in town turned on Tobias as they figured it was a love affair gone sour.
Frankfurt detectives Pia Kirchhoff and Oliver von Bodenstein are called in to a case of a mysterious traffic accident but their investigation leads them back to Altenhain. Pia believes Tobias's case was sloppy and feels like she can help find out the truth but her partner isn't quite in the game. Oliver has a lot of personal matters that he is dealing with and to top it off the two realize that the townspeople are not going to help them at all uncover the truth. They will protect themselves first and there are a lot of secrets in Altenhain.
There were a lot of plot threads and some red herrings to keep a reader entertained but I didn't find this to be the fast-paced thriller I was expecting. I'm curious if other books in this series will be translated and why they started with book four in the series. I don't think I'll ever understand why publishers release these out of order – now that is a mystery.
Source: Personal copy