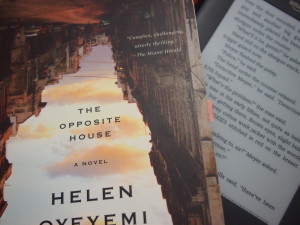 In some of my current reads I have found a couple of passages that I really liked and wanted to share those with you.
"I was seven years old when we came here. I've come to think that there's an age beyond which it is impossible to life a child from the pervading marinade of an original country, pat them down with a paper napkin and then deep-fry them in another country, another language like hot oil scalding the first language away. I arrived here just before that age." From The Opposite House by Helen Oyeyemi.
I think I found this especially moving because I was seven years old when I moved to the U.S. so I kind of found this very personal.
"If more bookshop owners had taken the responsibility to hang warning signs, her life would have been much easier. Cigarette packets came with warnings, so why not tragic books? There was wording on bottles of beer warning against drinking and driving, but not a single word about the consequences of reading books without tissues at hand." From The Readers of Broken Wheel Recommend by Katarina Bivald.
As readers I think we can all appreciate this one right?
I need to get back to both books but I also want to leave you with something fun. If you are still looking for the perfect spooky book to read check out the 10 Creepiest Reads of 2015. Or how about the Spookiest Covers of 2015. Some of those are pretty spooky. Finally if you've been wanting to stock up your NYRB library, catch their sale on Halloween Titles.
Have a wonderful weekend everyone. I am going to try and catch up on reading, visit the library and hang out at the bookstore. Just regular bookishness.