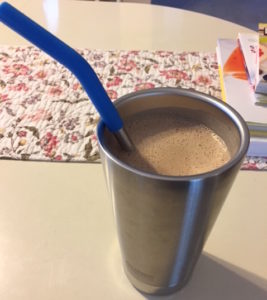 I hope you all had a great weekend. Mine was a bit lazy because when it's this hot in the summer, I don't feel like I have much energy for being out and about. I was able to finish two books so yay for that!
Oh and I did have a book crisis Friday night when I was sure I had The Lost Boy by Camilla Lackberg on my Kindle but realized I did not. This is the book for my July mystery book group discussion. So I thought I'll see if the library has it and they did but I couldn't place a hold for some reason. Luckily I got that to work the next day and now I'm just waiting to be notified of when my book is ready. Hopefully soon!
This weekend was one of smoothies at our household. I love smoothies for dinner and especially in the summer. We tried two new recipes one was a mango and strawberry smoothie. The recipe I linked is somewhat similar and it was yummy. Very sweet. And, today my husband combined two recipes from Raw Energy making a Mexican chocolate smoothie. Delicious!
Last but not least I know a lot of you have recommended A Man Called Ove by Frederik Backman and I haven't read the book yet but we did watch the movie and I loved it. Oh but did it make me cry. I really want to read his other books now.
Anyway, that's about it here in hot Texas. What's going on with you? Did you read some new stories and/or watch a good movie this weekend?