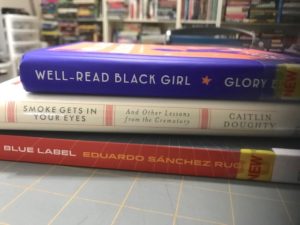 On my recent visit to the library I went to pick up a business book but of course I had to look around for a bit and picked up some other books.
Well-Red Black Girl by Glory Edim. I remember this one got a lot of buzz last year and it looks like a wonderful anthology.
Smoke Gets in Your Eyes by Caitlin Doughty. I know someone recommended this one not too long ago and I just can't remember who! I'm sorry for not giving credit. This is a memoir of a young mortician sharing her tale of how she ended up in the business. So bizarre and yet, so readable!
Blue Label by Eduardo Sanchez Rugeles. This is the story of a young woman from Caracas, Venezuela who is at war with the world and on a missing to graduate high school and leave Venezuela for good. I think with everything going on in Venezuela currently this would be a fascinating read.
Have you read any of these? What have you checked out from the library recently?