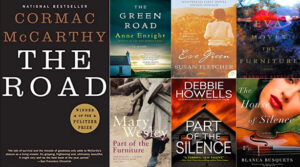 I'm finally going to jump in on the fun and participate in Six Degrees of Separation, which is a monthly meme hosted by Kate from Books Are My Favourite and Best.  The idea is to start with the book chosen for the month and connect the following six books. Where will you end up?
This month the meme starts with The Road by Cormac McCarthy. While I would like to read this one day, right now I'm really not in the mood for dystopian novels. I decided to connect my books through the titles, and to challenge myself a bit more, I selected all books from my TBR stacks.
My next book is The Green Road by Anne Enright. This is a novel set in a small town on Ireland's Atlantic coast. A family tale spanning thirty years. I am pretty sure I bought this book on my travels one year.
Now we move on to Eve Green by Susan Fletcher. This story is set in rural Wales and starts off with the death of a mother and the abduction of a young girl. Sounds interesting but gloomy though doesn't it?
For my next book I found Eva Moves the Furniture by Margot Livesey. Eve/Eva sort of similar right? On the morning of Eva McEwen's birth, six magpies congregate in the apple tree outside the window–a bad omen, according to Scottish legend. Now I'm in a small Scottish town? I didn't even realize these books could have connected in other ways!
Now we move to Part of the Furniture by Mary Wesley. It is early in 1941, and June Marlowe, with no home and no family to turn to accepts the offer of a home from a frail stranger, older than his years. Here she may find peace; here she will no longer be part of the furniture.
From there I selected Part of the Silence by Debbie Howells. When they find Evie Sherman left for dead in a maize field, the young woman has no recollection of who she is. But after three days in a hospital bed, she remembers two names: her own, and that of her three-year-old daughter, Angel.
Finally, I end up at The House of Silence by Blanca Busquets. Moving between Barcelona and Berlin in the 1980s, this is a profoundly moving story of loneliness and connection and music and desire.
This was tons of fun and it also served to remind me of books I have on my shelves that I need to get to one of these days. Let me know if you've played this meme or if you are planning to. Or maybe you've read one of these books and can recommend one to start with first!