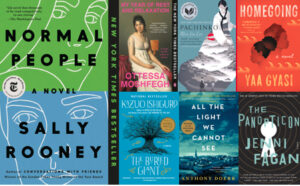 It's time for another adventure with Six Degrees of Separation, which is a monthly meme hosted by Kate from Books Are My Favourite and Best.  The idea is to start with the book chosen for the month and connect the following six books. Where will you end up?
This month's book is Normal People by Sally Rooney. I have not read this bestselling novel yet but it's on my TBR list. This book also happens to be one of NPR's Book Concierge Staff Pick for 2019. So I thought why not link books I want to read via the staff picks through the previous years?
If I look at 2018, that takes me to My Year of Rest and Relaxation by Ottessa Moshfegh. I've mentioned before that I'm a big fan of her novel, Eileen. From the blurb: a novel about a young woman's efforts to duck the ills of the world by embarking on an extended hibernation with the help of one of the worst psychiatrists in the annals of literature and the battery of medicines she prescribes.
Next is the 2017 selection which is Pachinko by Min Jin Lee. From the blurb: four generations of a poor Korean immigrant family fight to control their destiny in 20th-century Japan, exiled from a home they never knew. I love a good generational saga.
Moving further back to 2016 and that takes us to Homegoing by Yaa Gyasi. This award-winning novel tells the story of two half sisters born in  Ghana in the eighteenth century. One goes to lead a life in comfort while the other is impression in the same house as the sister but sold into slavery. I've heard so many good things about this book.
The 2015 selection is The Buried Giant by Kazuo Ishiguro. His novels have never disappointed me. From the blurb: In post-Arthurian Britain, the wars that once raged between the Saxons and the Britons have finally ceased. Axl and Beatrice, an elderly British couple, set off to visit their son, whom they haven't seen in years.
The 2014 selection is All The Light We Cannot See by Anthony Doerr. An award winning novel about a blind French girl and a German boy whose paths collide in occupied France as both try to survive the devastation of World War II. I've seen this one on a lot of reading favorite lists.
Finally we reach 2013 with The Paopticon by Jenni Fagan. From the blurb: Anais Hendricks, fifteen, is in the back of a police car. She is headed for the Panopticon, a home for chronic young offenders. Anais has been let down by just about every adult she has ever met. Now a counterculture outlaw, she knows that she can only rely on herself.
I have all of these books on my TBR shelf. They all sound so good and I want to dive into them. Have you read any of these and which would you start with first?
I hope you get to play in Six Degrees. Again, thank you to Kate and look forward to seeing your lists.