"To tell a woman everything she may not do is to tell her what she can do."
~Spanish Proverb
As part of the Weekly Geeks prompt to use quotes this week, I wanted to share this quote which, I love, and I find fits perfectly when discussing these two women sleuths who I've spent some time with lately.

Annie Seymour is back in this second entry to report on a crime that is right in the neighborhood and involves family and friends. With her quick wit and smarts she's not about to let the mob, her dad or even some chickens get in the way of the investigation.
"Listen, a voice hissed in my ear, 'you better stop messing around in things that don't concern you.' The arm wrenched my body backward, and it felt as though I were going to snap in two. I tried to catch my breath, but the hand over my mouth was tight and sweaty."
I gotta say, I thought this was even better than the first book. Good action scenes and an ending I didn't see coming. You can read my full review here. Now, I have to hurry up and read the third book as Karen's fourth entry in the series comes out this November. You can check out more info about Annie and Karen here.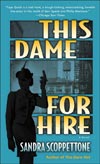 Now, with This Dame for Hire, I went back to 1943 New York City. A secretary, Faye Quick, didn't plan on being a P.I. but when her boss is sent overseas to fight in the war, she steps in and handles the cases. She may not be a P.I. but she's clever and willing to get the job done. I really liked Faye.
"While I waited for Anne I went over to the fiction and started at A. Even if I found something, I wouldn't let myself buy more than one book cause, not only couldn't my change purse let me, I was running out of book space in my apartment."
See why I liked her immediately? This book presents a wonderful portrait of New York during the war years. You can read my full review here. I've looked for more information on this series and there only seems to be one more book available, which I've already got on order.
I enjoyed both books a lot and think these are great female characters. These books also count for some of my reading challenges. Secondhand Smoke counts towards my 2nds Challenge and This Dame for Hire for my 1st in a Series. I'm making progress.
So how about you? Have you read any books lately with some strong women characters? I'd love to hear about them.
*** One last thing. Click on the banner to see how you can help keep this great magazine in circulation.