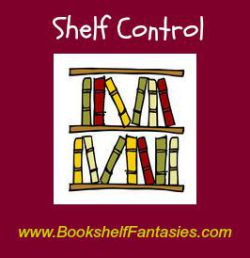 It's time for another Shelf Control Post. This meme hosted by Lisa of Bookshelf Fantasies "is all about the books we want to read — and already own! Consider this a variation of a Wishing & Waiting post… but looking at books already available sitting right there on our shelves and e-readers."
In keeping up with celebrating Hispanic Heritage Month, I thought I'd organize some of the books that are on my shelf that are by Hispanic authors. Two of these are in Spanish as they were gifts from one of my aunts. I think she got these when she went to the annual book festival in Monterrey. I would love to go again but not sure if I can make it this year. Anyway, here are my books: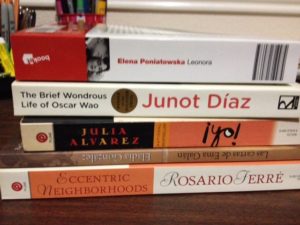 Leonora by Elena Poniatowska. This is a fictionalized account of Leonora Carrington, a woman who lived a grand life among painters and artists. I had never heard of her but am definitely intrigued.
The Brief Wondrous Life of Oscar Wao by Junot Diaz. From the publisher: Oscar is a sweet but disastrously overweight ghetto nerd who—from the New Jersey home he shares with his old world mother and rebellious sister—dreams of becoming the Dominican J.R.R. Tolkien and, most of all, finding love
Yo! by Julia Alvarez. I don't know how I missed this but this is actually a sequel to How the Garcia Girls Lost Their Accent. I've even had this on my shelf for years.
Las Cartas de Ema Galan by Eladia Gonzalez. This is a collection of letters written by a young woman around the time of Mexico's independence. She writes these letters to her cousin who lives in the city and talks about the things that matter most to her. This looks so interesting.
Eccentric Neighborhoods by Rosario Ferre. A lush, transcendent novel, a family saga about mothers and daughters, husbands and wives, parents and children.
Have you read any of these books?
I don't know if I'll have a chance to pick up one of these books between now and October 15th but I am reading Gabi: A Girl in Pieces by Isabel Quintero which I would highly recommend. I'm not even done with this and unless it completely changes I would say this is on track to become a favorite read.