Melody and The Biblio Brat tagged me on this fun meme of bookish facts that's been going on around the blogosphere. I love these things so thanks you guys.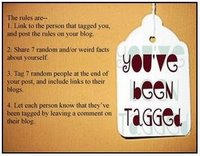 Here's the deal:
Link to the person who tagged you and post the rules on your blog.
Share seven random and/or weird book facts about yourself.
Tag seven random people at the end of your post, and include links to their blogs.
Let each person know that they've been tagged by leaving a comment on their blog.
1. During my senior year in high school one of my electives was to be a library aide.
2. I love to buy used books but I'm a bit picky. If it's not in good condition I don't care how cheap it is, it's not finding a home in my stacks. I don't mind a little inscription here or there but highlighting, stains, etc. that's just ick.
3. If my husband buys a book then I have to buy one too. We get competitive about who has more books – ha.
4. I have a big collection of bookmarks. Sometimes I try to match the bookmark to the book.
5. The nightstand you see in my banner is a special one. I only keep books which have been autographed by the author in that one. Some of my treasures include books by Margaret Atwood, Kazuo Ishiguro, David Sedaris, Carol Shields, Isabel Allende and several others. I need to get another nightstand.
6. Despite the fact that I can make my own journals, I don't mind buying or receiving journals made by other people. Actually, I love it because sometimes I get ideas for new bindings and of course I just enjoy pretty books.
7. When we plan a trip to a new city one of the first things I do is try to do is map the bookstores and/or literary sites I want to visit.
Ok, I know this tag has been around the blogopshere but I'll still tag some friends. So if you've done this one please just excuse my bad memory.