In honor of National Poetry Month I thought I'd share with you a few of the poetry books I keep going back to time and again. I have a whole shelf of poetry books but these are the ones that I can't seem to get enough of. So if you are a poetry reader or simply want to read more, I highly recommend these books: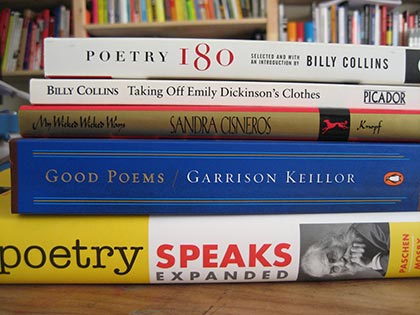 In particular, I'm especially attached to Taking Off Emily Dickinson's Clothes and My Wicked Wicked Ways as I got to meet the poets and they signed their books for me.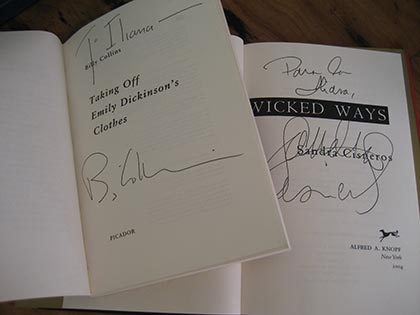 And, now I'll leave you with one poem from Poetry 180 which is just a delight to read.
Selecting A Reader by Ted Kooser
First, I would have her be beautiful,
and walking carefully up on my poetry
at the loneliest moment of an afternoon,
her hair still damp at the neck
from washing it. She should be wearing
a raincoat, an old one, dirty
from not having money enough for the cleaners.
She will take out her glasses, and there
in the bookstore, she will thumb
over my poems, then put the book back
up on its shelf. She will say to herself,
"For that kind of money, I can get
my raincoat cleaned." And she will.
Hope you all have a wonderful weekend. I'm hoping to get caught up on some book reviews, make progress in my current reads and who knows, maybe I'll even indulge in a bit of book therapy.