Those are just some of the blurbs on the paperback copy of my current read. I normally don't pay much attention to that but this book seems to have a lot of blurbs; on the back and two pages inside.
Sometimes when I see such glowing recommendations I become a bit skeptical but so far I can say that Sharp Objects by Gillian Flynn is living up to these descriptions.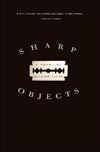 The story is about Camille Preaker's first reporting assignment at her second-rate daily paper. She has to go back to her hometown of Wind Gap to cover the murders of two preteen girls. Being back home brings up memories of her own difficult childhood and she'll have to confront what happened to her years before.
I'm really drawn to the descriptions which sometimes I'm finding unsettling and intense. Here's Camille describing herself:
"I'm a cutter, you see. Also a snipper, a slicer, a carver, a jabber. I am a very special case. I have a purpose. My skin, you see, screams. It is covered with words – cook, cupcake, kitty, curls – as if a knife-wilding first-grader learned to write on my flesh."
So far, my reading year has started off with some exciting reading material. I hope yours has as well.
Now, this week I'm getting ready for more excitement because I'm in Dallas and plan to visit with my former book groups, go to the Craft Guild for some bookbinding time and of course see friends. I can't wait.