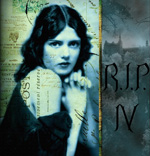 I was going to post a review today (hopefully tomorrow instead) but with all the excitement about the R.I.P. challenge I decided I couldn't wait to join in on the fun. I love this challenge and have participated every year, although I don't think I've ever finished it, but hey, maybe this will be the year.
Carl V. has set up some gorgeous buttons for us to use and of course has set up different perils for readers to choose. I'm going to choose Peril the Second which involves reading two books of any length, from any subgenre of scary stories. I might try to do the Short Story Peril as well as I've got this wonderful book of Victorian and Edwardian Ghost Stories but we'll see how that goes.
Of course part of the fun of challenges is coming up with a pool of books to choose from so here are the books I've seen on my shelves that I think would be perfect for this challenge.
The Woman in White by Wilkie Collins. I actually started this book already and am reading it for another challenge but I guess that's ok right? I'll try not to count this one but I may end up having to do so.
Dracula by Bram Stoker. I know, I say I love vampires but can't believe I've yet to read the original.
The Year of Disappearances by Susan Hubbard. I really liked her first book and have been meaning to read this follow-up story.
A Certain Slant of Light by Laura Whitcomb. A story of Victorian-era ghosts who come to inhabit 21st-century teenage bodies.
20th Century Ghosts by Joe Hill. His other book, Heart-Shaped Box, managed to scare me a bit so I'm wondering if this one will too.
Rises the Night by Colleen Gleason. Again, another series I want to read but have fallen behind on. This would be the perfect time to read it don't you think?
So let's see which books I end up choosing but I think I've got some good ones here. Are you joining in?