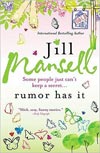 "How weird that you could push open your front door and know in an instant that something was wrong."
From Rumor Has It by Jill Mansell
When Tilly opens the door to her flat she finds out her boyfriend has left. He didn't even bother to tell her but his items are missing and her neighbor tells her she saw the moving van. Oddly enough she doesn't feel as devastated as she thought she would.
Instead, when she's visiting her best friend Erin in a small town in the Cotswolds she begins to think about ditching her life in London and starting over. In Roxborough she can be near her best friend, escape the high rents and enjoy small town life. Quickly she finds a job working as an assistant to interior designer, Max Dineen.
What Tilly didn't expect though was the rumor mill and much less to become a part of it. A lot of the gossip centers on who will win Jack Lucas' heart. Tilly admits to herself that she likes him but has no interest in becoming just another of his conquests but how can she put him off when he is so nice and seems genuinely attracted to her.
Although this is certainly Tilly's and Jack's story what I really enjoyed was that there was a strong cast of characters and all of them also going through their own ups and downs thanks to that rumor mill. While the novel may be lighter fare I also liked that there were some more serious issues brought up and handled nicely without being shoved aside or bringing the book down.
If you haven't decided on a book for your summer reads you can't go wrong with this one. You'll enjoy reading how love lives get sorted out and people are given second chances. And, you'll probably also have some good laughs. I know I'll be adding more of Jill Mansell's book to my radar for when I need a good, comfort read.
Source: Advance Review Copy