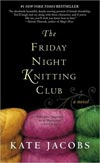 "The hours of Walker and Daughter Knitters were clearly displayed in multicolored letters on a white sandwich board placed just so at the top of the stair landing. Though Georgia Walker — usually preoccupied with closing out the till and packing up the strays of yarn on the floor — rarely made a move to turn the lock until at least eight fifteen… or later."
No matter their knitting skills, women gather at Walker & Daughter Knitters on Friday evenings for a cozy evening of knitting, chatting and a sense of community. Georgia Walker, the owner of the shop, never envisioned she would have formed such a gathering spot but after years of hard work and questioning herself she is proud of what she has achieved.
At one time Georgia was young, pregnant and single and ready to go back home to her parents after her devastating breakup, but when Anita approached her for a knitting project it signalled the beginning of a great friendship and partnership. With Anita's help, Georgia gained self-confidence, opened up her shop and raised her child by herself.
Now Georgia's daughter, Dakota, is a self-assured twelve-year-old who is often baking and also found spending time with the members of the knitting club. Georgia is happy with her life so far but it's beginning to get a bit complicated now that Dakota's dad is back in the picture and wants to spend more time with Dakota and Georgia. Georgia's best friend in high school, Catherine, is also back but can Georgia forgive betrayals that happened long ago?
As Georgia navigates these new relationships and how she feels about them readers are also given a peek into the lives of the other women who either work at the shop or attend the Friday night knitting sessions. They are all going through their share of relationship woes, career transitions, and big life decisions.
Although knitting is one of the central elements of the novel you don't have to be a knitter to enjoy it. If you aren't though be prepared to be tempted to try a new hobby. Reading about the varieties of yarn, colors and textures, and abundance of projects you can make will surely have you thinking about reaching for some knitting needles.
Just like I've always imagined that knitting is an activity that can bring a lot of comfort, this book makes you feel like you are around characters you know. Which is perhaps why I didn't like the end. Without trying to spoil too much, my concern is that I feel sometimes authors create more drama than is needed just to tug at your heartstrings. The novel was a good effort and would have been much better with that last part.
Source: Personal Copy