I hope you've all had a great weekend. I did a bit of shopping with my mom, caught up on some emails, did some grocery shopping and I also did spend some time with books.
On Saturday I went to the library to return a couple of books that were due. I was so bummed out I had to return Life After Life by Jill McCorkle because I had just started that book and it was so good. I began reading it at work (which I do not recommend because it made me cry) and didn't realize it was due back so soon. I would have renewed it but there was another hold on the book. I'll be come back to this one definitely.
Anyway, I had a couple of holds waiting for me and so here's what I got: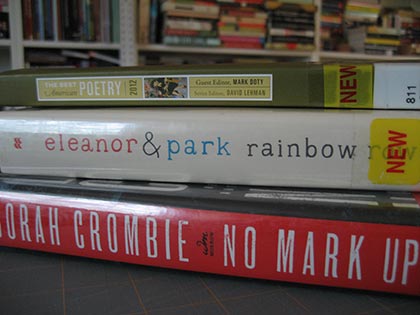 The Best American Poetry 2012. Not a hold but when I saw this on the new books shelf I couldn't resist. I haven't read as much poetry this year as I would like and I need to remedy that. I've skimmed a bit of this already and read a wonderful poem The Afterlife by Lynne Sharon Schwartz.
Eleanor & Park by Rainbow Rowell. I've read such great reviews recently that I just had to get this book ASAP. I've read Rowell's other book Attachments a couple of years ago and really enjoyed it so I'm excited to read this one.
No Mark Upon Her by Deborah Crombie. Because it's been a while since I caught up with the adventures of Duncan & Gemma.
Now I really need to get back to the latest Maisie Dobbs book. It's due back tomorrow at the library but I am this close to finishing it. Maybe tonight! And, next up no matter what book I'd like to start I really have to get going with my mystery book for book group.