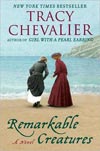 "For myself, it took only the early discovery of a golden ammonite, glittering on the beach between Lyme and Charmouth, for me to succumb to the seductive thrill of finding unexpected treasure. I began frequenting the beaches more and more, though at the time few women took an interest in fossils. It was seen as an unladylike pursuit, dirty and mysterious. I didn't mind. There was no one I wanted to impress with my femininity."
Remarkable Creatures by Tracy Chevalier
Elizabeth Philpot and her sisters have had to leave their London home as their brother has gotten married and his new wife is now in charge of the house. The sisters are sent off to tour various towns and encouraged to choose something practical and economical. When they visit Lyme they figure they can make a new life there. Louise would enjoy the garden in the new cottage, Margaret being the youngest might still shine at the assembly rooms and Elizabeth could roam about the beach looking for treasure.
As each sister settles in to make the best of their circumstances, Elizabeth finds joy in the fossils she's always searching for. When she meets Mary Anning, a young girl from Lyme, who has a gift for finding buried treasure the two begin an unlikely friendship. Mary may not be as educated as Elizabeth but Elizabeth finds her most educated in fossils, even more than any of the other men in the area who presume to know about fossils.
While Elizabeth looks for fossils to learn about science, Mary has been looking for fossils to sell them to tourists. Her family is always in debt and barely making ends meet. When Mary finds a skeleton never seen before she's on the edge of fame. But fame comes with a price as there are those who want to get close to Mary for what she knows and those who would take advantage of her.
Mary and Elizabeth's relationship will be further put to a test when both fall for a gentleman friend but both will learn lessons about trust and friendship.
I loved this book. From the very beginning I was engaged in the story finding myself getting upset over how unfair life was for a young unmarried woman who was basically seen as a spinster by age 20. Then I felt like I was on a hunt with Elizabeth every time she mentioned some new fossil with their curious names and beautiful descriptions.
The story is actually based on the real life Mary Anning who discovered the first complete pterodactyl in Great Britain. There is a wonderful postscript at the end of the novel including some additional reading suggestions. If you love historical fiction this is a must read book.
Source: Advance Review Copy