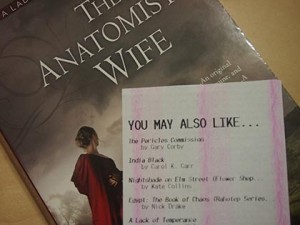 I've been enjoying a new mystery, The Anatomist's Wife by Anna Lee Huber, which is the first in a series featuring Lady Darby. It's set in Scotland in 1830 and the main character is an artist. At times it feels a bit more like a romance than a mystery but it's an entertaining read.
The little surprise I got though as I was reading this book was that I found this receipt tucked in one of the pages. You May Also Like… and then there are five books recommended based on this purchase. I can't remember seeing a receipt like this from Barnes & Noble before.
Cool idea and of course it made me want to see what books were recommended. One is a mystery by Carol K. Carr which I wrote about recently so yep, I would like to read that one.  The others though I'd not heard about but they are:
I think of all the books recommended the ones I'd really like to try are the Carol K. Carr books, the Gary Corby books and this new mystery, A Lack of Temperance.
Anyway, that was a fun find. It's not like I'm at a loss for what to read but I can always add more books to my list. So have you seen one of these before and what was recommended for you? Did you add some new authors to your list?