I feel like everyone must be thrilled about the Black Friday sales but I got a coupon for Borders and that's where I'll be going tomorrow and avoiding the malls at all costs, besides I think I've told you I do a lot of my Christmas shopping on Etsy, and this year I'm also going to be checking out Artfire.
Anyway, guess what we did today? We went to see The Girl Who Kicked the Hornet's Nest! I have to say I loved this movie so much more than the book. I was a bit sad at the end though thinking we've come to the end of the trilogy.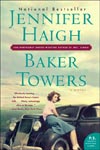 Oh and thank you guys for your suggestions on which book I should start next. I ended up going with something totally different. Isn't that always the case? I selected Baker Towers by Jennifer Haigh.
"They were working girls, typing for the war. Dorothy had answered an ad in her hometown newspaper. A government recruiter had come to interview girls in the junior high cafeteria. The only requirement was a high school diploma."
This book is set in a small town during and after WWII. I feel like the author's descriptions have really taken me to the streets and changing lives of the women who are waiting for their soldiers to come home.
So have a wonderful weekend you guys. I'm going to try to catch up on my blog reading, maybe go see another film and of course spend some time with my books.