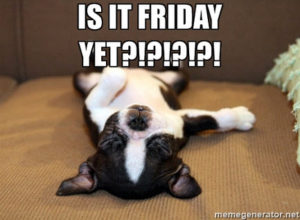 This was me all of today. I am so ready for the weekend. I think in general March has been a bit of a rough start for me because I'm dreaming of vacation – probably due to hearing so many people talk about spring break. We aren't going on vacation any time soon but I do have a business trip next week so I'm kind of looking forward to that.
So aside from getting some stuff ready for my trip, I don't have many plans for the weekend. We haven't made it to the bookstore in a couple of weeks so I'm hoping we can stop in and catch up on what's new.
Yesterday I received The Woman In Cabin 10 by Ruth Ware from my small order at the Book Depository. Maybe I'll take that on the plane with me although I think I'll probably just stick with my Kindle and a magazine.
Anyway, I hope you all have a wonderful weekend. Do you have some exciting plans? Are you doing any book shopping? Are you going on spring break?