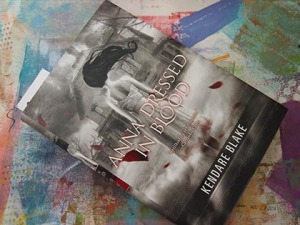 I have some great books going on at the moment and thought I'd share those titles with you. Several of you recommended I read Anna Dress In Blood by Kendare Blake for the R.I.P. Challenge and I started it last week. This one is fun. It's a boy meets girl story but the girl happens to be a ghost and the boy happens to be a ghost hunter. It's a bit more gruesome than I expected for this YA book but I'm enjoying it.
I'm also reading Bridge of Sighs by Richard Russo, and this is a book I'm carrying over from vacation. Yes, it's taken me this long to read it which is so odd given how much I like it. I love the narrator's voice because it sounds so normal and you feel like he's telling you his story.
My other read is Reconstructing Amelia by Kimberly McCreight. A mother is devastated when she is told that her daughter committed suicide but things just don't add up and then she receives a text message from an unknown number telling her Amelia did not commit suicide. This is turning out to be a good thriller.
I also have a few other books in progress but those books have been in progress for months. I was enjoying them but then summer came along with family visits, vacations, etc. and I've sort of lost my desire to get back to them. I am still leaving them on my nightstand but am making no promises on finishing those.
So those are my latest reads. I recently took out some library books so I'll do an update with those soon. What about you, how many books are you currently reading?