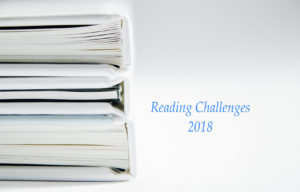 It's been a bit crazy here in Austin what with the bombings that have happened around town. There was one explosion that wasn't too far from my neighborhood so it just makes you think about things. Hopefully it is over and those affected can start the healing process. I cannot even imagine what it must have been like for the families of those who lost loved ones and/or were injured.
Anyway, my mind has been on the news, the job hunt, my HR course and whatnot so unfortunately my reading has slowed down quite a bit. So I thought it would be a good time to do a check in on my reading challenges. We are almost at a the first quarter mark so here is where I stand on them:
What's In A Name 2018 : The six categories are:
The word "the" used twice in the title
A fruit or vegetable in the title: Where The Wild Cherries Grow (review to come)
A shape in the title
A title that begins with "Z"
A nationality in the title: Never Look An American In the Eye by Okey Ndibe
A season in the title
Back to the Classics 2018 Complete 6 of the twelve categories: None yet!
A 19 Century classic
a 20 Century classic
A classic by a woman author
A classic in translation
A children's classic
A classic crime story, fiction or non-fiction
A classic travel or journey narrative, fiction or non-fiction
A classic with a single word title
A classic with a color in the title
A classic by an author that's new to you
A classic that scares you
Re-read a favorite
Book Bingo 2018 Of the 25 categories, I've read one book. For the category I Bought It for which I read A Study In Death (review to come).
Nonfiction Reading Challenge I'm challenging myself to read 6 nonfiction books this year. So far I've read How To Travel Without Seeing, Never Look An American in the Eye and The Bright Hour.
European Reading Challenge My goal is the Deluxe Entourage which means reading at least five books by different European authors. So far I've read My Brilliant Friend (Italy), Good Evening, Mrs. Craven (UK), and Faithless (Norway).
Part of my goal is to try not combine books for challenges. I know most challenge hosts give us the go ahead for that but I figure I could at least try. I'm pretty happy with my progress with the exception of the Classics of course. I am reading a Katherine Mansfield book currently so hopefully by the next check in I'll at least have one book to note.
So any bookish plans for the weekend? I have some coursework reading to do but hopefully I'll also have a chance to catch up on my own reading. Lots of good stuff there. Have a great weekend you guys!