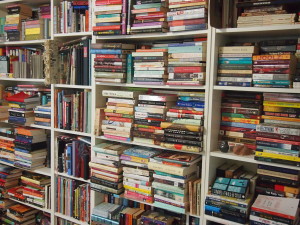 I hope you all had a great weekend. I had the chance to get all dressed up for my office party on Saturday so that was fun and the rest of the weekend has sort of seemed a blur between errands and to-dos. I did finish one book so that is definitely a plus but I'll tell you about that one in another post.
For now I've just been thinking about reading challenges and which ones to sign up for in 2017 and it's funny that two of the challenges that I initially thought about doing are ones that I did this year but have completely failed at. Sometimes that happens so that's why a new year gets me excited about giving them another go.
What's In A Name 2017 hosted by Charlie. I have participated in this challenge for several years and usually I am able to finish it but this year I didn't even cross off one book for the challenge. Oh well. But here are the details for the 2017 challenge:
Between January and December read a book from each of the following six categories (examples of titles are in brackets):
A number in numbers (84, Charing Cross Road; 12 Years A Slave; 31 Dream Street)
A building (The Old Curiosity Shop; I Capture The Castle; House Of Shadows; Jamaica Inn)
A title which has an 'X' somewhere in it (The Girl Next Door; The Running Vixen)
A compass direction (North and South; Guardians Of The West; The Shadow In The North; NW)
An item/items of cutlery (The Subtle Knife; Our Spoons Came From Woolworths)
A title in which at least two words share the same first letter – alliteration! (The Great Gatsby; Gone Girl; The Cuckoo's Calling)
Back to the Classics 2017 hosted by Karen K.  I participated in this challenge this year but I didn't make a single book dent. Well, I've not given up my goal to read more classics so thankfully Back to the Classics challenge is back.
There are 12 categories to choose from in this reading challenge:
A 19 Century classic
a 20 Century classic
A classic by a woman author
A classic in transation
A classic published before 1800
A romance classic
A Gothic or horror classic
A classic with a number in the title
A classic about an animal or which includes the name of an animal in the title
A classic set in a place you'd like to visit
An award-winning classic
A Russian classic.
Please visit Karen's post to learn more about the rules and details of this challenge.
So what do you think? Are you joining either of these challenges? I'd love to hear what challenges you'll be participating in next year. I have a few others on my radar and will tell you about those soon.